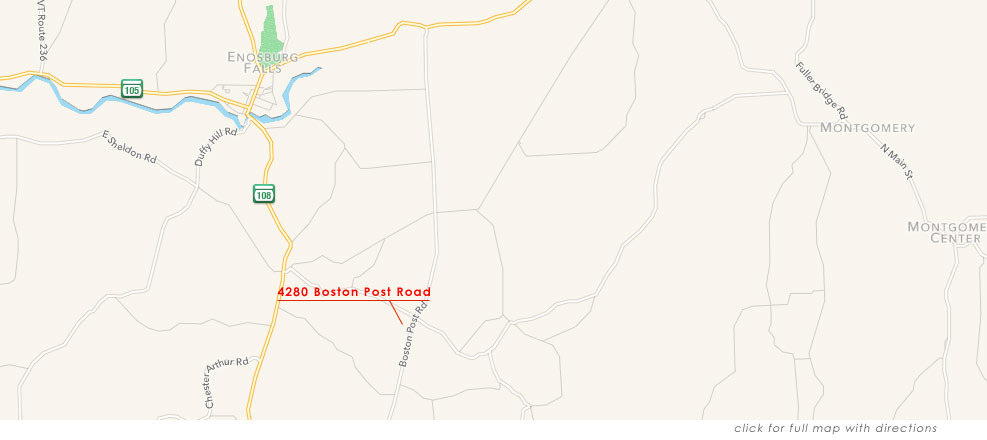 Our 2022 season runs June 11 thru October 10, Thursday-Sunday (+ holidays) from 12 to 6pm
Cold Hollow Sculpture Park is in Vermont at 4280 Boston Post Road near the village of Enosburg Falls. It is not far from Burlington and Montreal. Please refer to Google Maps for specific directions. Approaching on the Boston Post Road, from north or south, the new CHSP concrete sculpture on the west side of the road indicates the entrance.
Please note...
There is no admission charge. Guests assume all risk.
Organized Groups must contact us ahead of time, see below*
For visitors of limited mobility: much can be seen from our on-property road. Please call 512.333.2119 for additional information.
Dogs are not permitted. Service animals as defined under ADA Title II and III are permitted. This only applies to dogs that have been individually trained to do work or perform tasks for a person with a disability. We cannot accommodate emotional support animals, pets, or any other animals not considered service animals under the ADA.

Our meadows provide feed for our neighbor's cows; the hay is cut twice a season. Foot paths are always mowed but the hay through which they wind might be high. Sturdy walking shoe are advised.
Kindly note that as the studio is an active fabrication facility, it is not open to visitors.
We hope you enjoy the Park and ask you to respect the care and work that went into each sculpture by not climbing, spinning the kinetic pieces, or otherwise harming them - acts which would reduce the joy for others. We ask that all children be supervised so they and the artworks are not endangered. Artwork surfaces are fragile. Please do not touch them with stones, sticks, or any hard, sharp objects.
You are welcome to stay as long as you like within our operating hours. Most people visit for 1-3 hours.
Enjoy your picnic and relax. We just ask that you pack out what you pack in.
Water, bathroom facilities, and printed guides are available at the welcome barn.