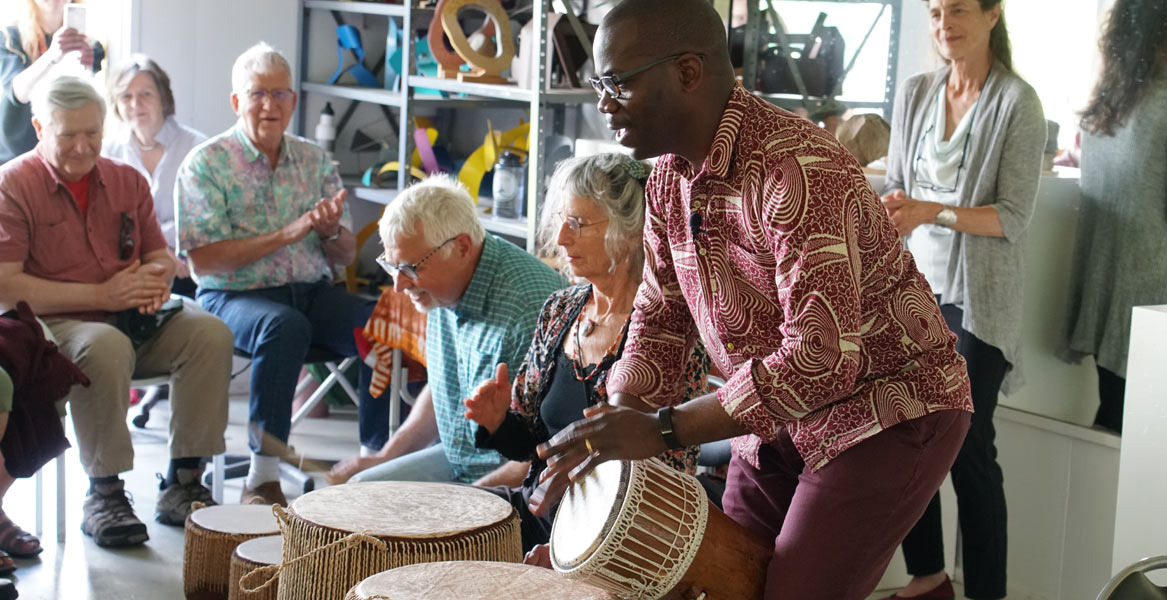 2021 Theme - Why We Make Things
Humans make things—always have, will they always? As far back as we can see, 2.6 million years, our ancestors created stone tools. Later they painted images on walls and fashioned beautiful objects out of clay. But why? What is this eternal itch that needs a constant scratch? Will our hands be silenced? How will our need, not just our ability, to express our ideas/our dreams change?
Why We Make Things is the first in a triad of programs dedicated to Making. We follow this with How We Make Things and Amazing Makers in 2022 and 2023. Over these three years our goal is to interrogate, consider and celebrate generative work.
To begin our study, we must investigate impetus. Thus in 2021, we want to learn about inspiration, goals, drive, curiosity, and the impact of making.
We are hosting five events to explore these questions through different lenses and media:
July 17 - Art as Activism for Social Change Part 1
Jane D.Marsching is an activist artist who explores our past, present and future human impact on the environment through collaborative research-based practices. Her projects have been sited in museums and galleries as well as weather observatories, public parks, city streets, radio waves, and the internet. She has worked with scientists, educators, kite builders, meteorologists, architects, and musicians. For Why We Make Things, Marsching will enage how she uses positive emotions, like love and tenderness, to combat climate change. She asks, if fear paralyzes us, can love mobilize us?

August 21 - Performance of Beacon Fire
Choreographer Laurel Jenkins and composer Matthew Taylor perform Beacon Fire, an original composition for Cold Hollow Sculpture Park. Their immense multi-month effort to create a fleeting experience will ask us to consider the reasons to make things that disappear from sight, sound and place. The ephemeral performance will offer stark contrast to the very solid sculptures it will happen amongst. Jenkins and Taylor make work to build community as well as art, and after the performance they will lead a conversation about community building as the motivation for artistic pursuits. This project was made possible with the support of the Vermont Arts Council.

September 18 - A Quieter Exploration
So says poet Baron Wormser. His pursuit is to try and find out what's inside of him and shed upon it resonate light. His motivation is to make a difference, a connection, no matter how small, in another's life. He says "What matters is the commerce that goes on between writers and readers and that never ends and that makes more differences than we can ever describe." At Cold Hollow Sculpture Park, Wormser will investigate how and why to honor these motivations.
October 9 - Walk The Meadows with the Artist
David Stromeyer discusses his newest sculptures and introduces a special project celebrating his 50 years of making art on the land.
All presentations are on Saturdays at 2pm and run about an hour, followed by ample time for questions and conversation. Join our email list to receive additional information as each program approaches.
The rock drop event went forward without the crowds in 2020. The closed event was covered by Seven Days.
CHSP would like to thank our past presenters who have given so generously - Oscar Palacio, photographer; Risa Puno, sculptor/installation artist; Luis Vivanco, cultural anthropologist; Ricardo Castro, architect and architectural historian; Damascus Kafumbe, ethnomusicologist/performer; Orly Yadin, filmmaker and Executive Director of VT International Film Foundation; Alison Hawthorne Deming, poet and nature essayist; Phil Acimovic, artist-in-residence, composer; Donna Rizzo, Professor of Civil and Environmental Engineering, University of Vermont; Luke Laplant, jazz saxophonist; Chris Peterman, jazz saxophonist; George Sherwood, sculptor; Meg Walker, artist; Nicole Dagesse with Murmurations Dance; Molly Davies & Philip Roy, videographers; Matt LaRocca, composer and performer; Ric Kasini Kadour, Editor, Vermont Art Guide; Kerri Macon, former Director of Art Sales, Burlington City Arts; The Austin Piazzolla Quintet; Walter C. Upton, architect, developer; Jerry Bowers, jazz guitarist; Vicky Tansey, dancer, artist; Dr. Jason Bates, Professor of Medicine, University of Vermont; Andrew Massey, composer and conductor; Julia Shipley, writer, poet, and farmer; Kory Rogers, Curator of Design at the Shelburne Museum; D. J. Hellerman, former curator, Burlington Arts Center