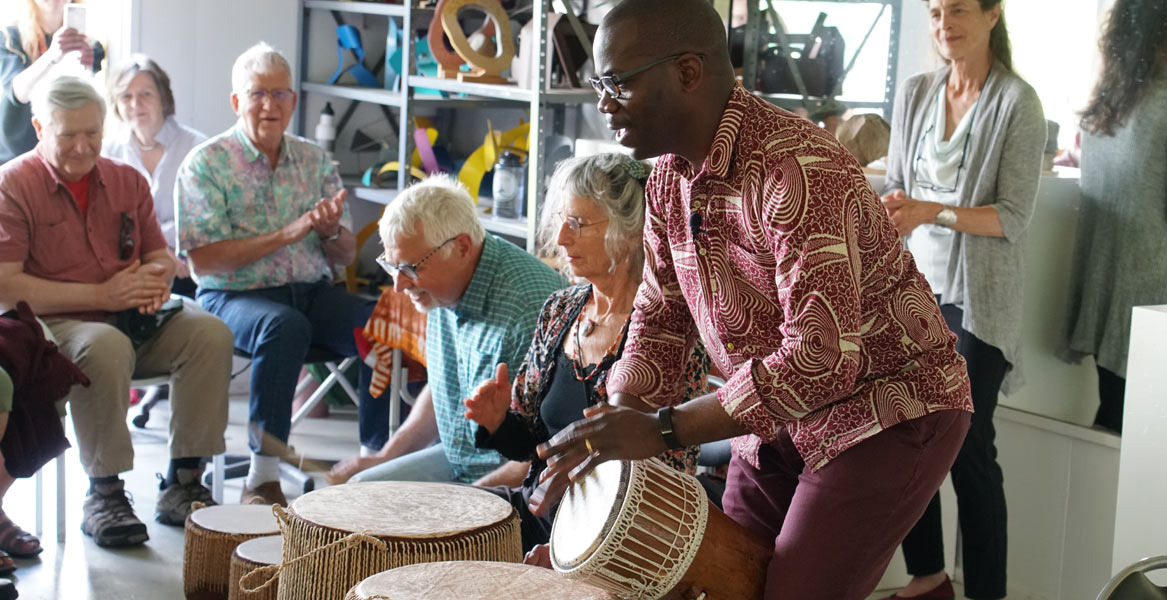 2021 Theme - Why We Make Things
Humans make things—always have, will they always? As far back as we can see, 2.6 million years, our ancestors created stone tools. Later they painted images on walls and fashioned beautiful objects out of clay. But why? What is this eternal itch that needs a constant scratch? Will our hands be silenced? How will our need, not just our ability, to express our ideas/our dreams change?
Why We Make Things is the first in a triad of programs dedicated to Making. We follow this with How We Make Things and Amazing Makers in 2022 and 2023. Over these three years our goal is to interrogate, consider and celebrate generative work.
To begin our study, we must investigate impetus. Thus in 2021, we want to learn about inspiration, goals, drive, curiosity, and the impact of making.
We are hosting five events to explore these questions through different lenses and media:
All presentations are on Saturdays at 2pm and run about an hour, followed by ample time for questions and conversation. Join our email list to receive additional information as each program approaches.
The rock drop event went forward without the crowds in 2020. The closed event was covered by Seven Days.
CHSP would like to thank our past presenters who have given so generously - Oscar Palacio, photographer; Risa Puno, sculptor/installation artist; Luis Vivanco, cultural anthropologist; Ricardo Castro, architect and architectural historian; Damascus Kafumbe, ethnomusicologist/performer; Orly Yadin, filmmaker and Executive Director of VT International Film Foundation; Alison Hawthorne Deming, poet and nature essayist; Phil Acimovic, artist-in-residence, composer; Donna Rizzo, Professor of Civil and Environmental Engineering, University of Vermont; Luke Laplant, jazz saxophonist; Chris Peterman, jazz saxophonist; George Sherwood, sculptor; Meg Walker, artist; Nicole Dagesse with Murmurations Dance; Molly Davies & Philip Roy, videographers; Matt LaRocca, composer and performer; Ric Kasini Kadour, Editor, Vermont Art Guide; Kerri Macon, former Director of Art Sales, Burlington City Arts; The Austin Piazzolla Quintet; Walter C. Upton, architect, developer; Jerry Bowers, jazz guitarist; Vicky Tansey, dancer, artist; Dr. Jason Bates, Professor of Medicine, University of Vermont; Andrew Massey, composer and conductor; Julia Shipley, writer, poet, and farmer; Kory Rogers, Curator of Design at the Shelburne Museum; D. J. Hellerman, former curator, Burlington Arts Center