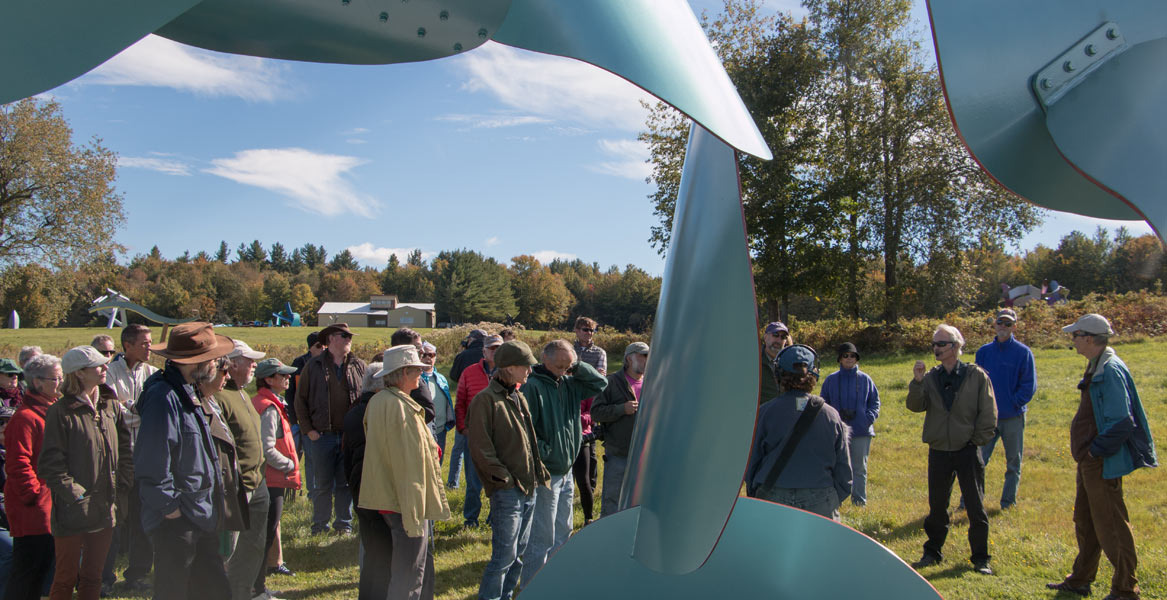 Our 2017 season's theme is motion. Programs will explore how movement is perceived, captured and expressed through sculpture, music, video, and dance. All events are free and open to the public. These programs are once again a part of Vermont Arts for 2017
Opening Day Celebration | Sculptural Sound Waves
Saturday, June 24, 2 pm at the Park
Join us to celebrate the opening of our fourth season with a walk to Facetted Rock, where composer/performer, Matt Laroca and musicians will 'play' with resonances of the sculpture's 48 steel surfaces. Conversation and refreshments follow.
Capturing Motion | A Video Workshop
Sunday, July 23, 2-5pm, at the Park
Videographer Molly Davies' projections of her work and guided explorations will inform our making of short, cell phone videos that reveal motion implicit in sculptures and landscape. Our productions will be collected and presented on our website and on social media. Conversation about our discoveries follows, with refreshments.
Dance with the Art
Saturday, August 26, 2pm at the Park
A dancer/choreographer TBD will present a site-specific, movement improvisational piece engaging selected sculptures.
The Austin Piazzolla Quintet
Saturday, September 23, 7pm at The Meeting House on the Green in East Fairfield, VT
Honoring the overwhelming demand, we are bringing APQ back for another off-site performance of the music of the late Argentine composer, Astor Piazzolla, as well as original nuevo tango compositions. Suggested donation to The Meeting House, $10 at the door. Lite food and beverages available for purchase. The location is about a 20 minute drive from the park.
The Three Sculptors
Saturday, October 7, 2pm, at the Park
David Stromeyer, Meg Walker, and George Sherwood, share their art and come together to discuss how each addresses movement, actual and implied, in their work. Our Programming Director, Margaret Coleman, will moderate this panel. Meet the artists and share your thoughts over refreshments. This program closes our season for 2017.
CHSP would like to thank our past presenters who have given so generously:
D. J. Hellerman, former curator, Burlington Arts Center
Kory Rogers, Curator of Design at the Shelburne Museum
Julia Shipley, writer, poet, and farmer
Andrew Massey, composer and conductor
Dr. Jason Bates, Professor of Medicine, University of Vermont
Vicky Tansey, dancer, artist
Jerry Bowers, jazz guitarist
Walter C. Upton, architect, developer
Members of The Austin Piazzolla Quintet
Kerri Macon, former Director of Art Sales, Burlington City Arts
Ric Kasini Kadour, Editor, Vermont Art Guide